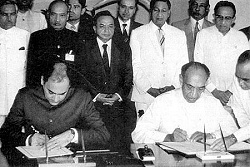 Though three successive European powers invaded Sri Lanka during the 16th to the 19th century, the Central Province maintained its independence until the early 19th century when the British finally managed to conqueror Kandy.
The first provincial election of the central province was held on the 23rd June 1988 and the United National Party won the ruling power of the council.  The first governor to the 1st council of the central province was hon. E. L. B. Hurulle (06. 06. 1988 – 31. 01. 1990).   The  first chief minister to the central province was Hon.  W. P. B.  Dissanayake ,the 1st chairman was Hon. D. B. Samarathunga and the 1st chief of the opposition party was  Hon. Sarath Kongahage.
Venue of the 1st Council Meeting was held on the 14th July 1988 at the Alwis Building, No. 11, Kande Veediya, Kandy.  until the 22nd January, 1991 assembly of council meetings had been held at various halls and hotels.  This day onwards the council meetings and all the services for the council members are done at the official assembly hall of the office of the council secretariat Pallekele, Kundasale.
Hon. P. C. Imbulana became the governor after him and held the position until 02. 01. 1995.
With the introduction of the Provincial Councils the laws & regulations effected are functioning mainly on the basis of following acts.
13th Amendment to the constitution
Provincial Council Act no. 42 of 1987
Provincial Council Act no. 02 of 1988 on provincial elections
Provincial Council Act no. 37 of 1988 on Salaries and Allowances
The Chief Minister of Central Province, Sri Lanka is the elected head of local government at the provincial level, and is vested with most of the executive powers. The Chief Minister is chosen by legislators of the political party or coalition commanding a majority in the provincial council, and serves a six-year term with a provision of re-election. The Governor is the head of province, but his or her role is largely ceremonial.



Chief Ministers
| | | | | |
| --- | --- | --- | --- | --- |
| No. | Name | Party | Took Office | Left Office |
| 1 |  W. M. P. B. Dissanayake |  United National Party | 9 June 1988 | June 1998 |
|   |  Vacant |   | June 1998 | April 1999 |
| 2 |  Sarath Ekanayake |  People's Alliance | April 1999 | June 1999 |
| 3 |  Nandimithra Ekanayake |  People's Alliance | June 1999 | 6 November 2000 |
| 4 |  Sarath Ekanayake |  People's Alliance | 6 November 2000 | 30 April 2002 |
| 5 |  W. M. P. B. Dissanayake |  United National Front | 30 April 2002 | May 2003 |
|   |  Wasantha Aluvihare |  United National Front | 19 May 2003 | June 2003 |
| 6 |  Wasantha Aluvihare |  United National Front | June 2003 | 18 July 2004 |
| 7 |  Sarath Ekanayake |  United People's Freedom Alliance | 18 June 2004 | Present |