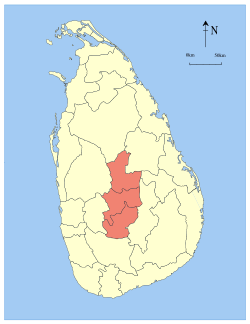 The Central Province is located in the central hills of Sri Lanka and consists of the three districts, Kandy, Matale and Nuwaraeliya.  The land area of the province is 5674 square kilometres which is 8.6% of the total land area of Sri Lanka. The province lies on 6.6°- 7.7° Northern latitudes and between 80.5°-80.9° Eastern longitudes. The elevation in the province ranges from 600 feet to over 6000 feet above sea level in the central hills. The province is bordered by the North Central Province from the north, the Mahaweli River and Uma Oya from the east, to the south, from the mountain range of Adams peak, Kirigalpottha and Thotapala, and from the west, the mountain ranges Dolosbage and Galagedera.

The mean temperature range from 16°C - 28°C in the Province with lower temperatures is recorded in the hills in the Nuwaraeliya District. In the Central Province 52% of the land has been cultivated while another 6.3% has been identified as lands which can be cultivated. Of the cultivated lands, more than 35% has been cultivated with tea while 14.8% has been cultivated with paddy. The percentage of lands cultivated with coconut and rubber is 4.8% and 2.3% respectively.

For the purpose of administration the Central Province has 36 Divisional Secretary areas in the three districts. They are further divided into 2,224 Grama Niladari areas, 5,763 villages, and local government bodies comprising 3 municipality, and 6 urban council areas.

Provincial administration is vested in the Central Provincial Council composed of elected representatives of the people, headed by a Governor who is appointed by His Excellency the President. The annual growth rate for 2007 was 0.9%. The population density for the Central Province was 433 persons per square kilometre. According to the 2001 census data 70.0%, 20.2% and 9.8% of the population were classified as rural, estate and urban respectively.